'The Unknown Warrior' Acquires 'Royal Scot' Tender
Submitted by

admin

on 30 July, 2012 - 09:40
The LMS-Patriot Project has acquired a second Fowler tender that was originally built for a 'Royal Scot' class loco.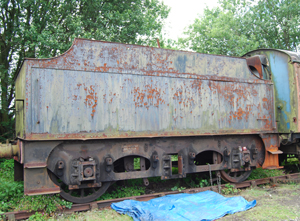 The ex Barry scrapyard tender, purchased from the East Lancashire Railway at Bury, will be stripped and after a thorough assessment will be considered for restoration and eventual use with 'The Unknown Warrior'.
Steve Blackburn, Engineering and Quality Director for the LMS-Patriot Project said, "We're delighted to have acquired the second Fowler tender as it will yield axle boxes and other parts that we need. However, we're hopeful that the tender frames will be restored in their own right depending on their condition and a new tank will be built".
The first tender which was acquired in May 2010 from Barry scrapyard was earmarked for use with 'The Unknown Warrior' but the frames were found to be severely corroded when stripped. This tender has already yielded useful parts, including 3 wheelsets, which have been refurbished at Tyseley Loco Works, six springs which have already been refurbished at Owen Springs of Rotherham, two axle boxes and brake gear.
The second tender, number 3918 will yield further axle boxes and two spare wheelsets. The other wheelset has already been used on the 42765s tender which was recently restored at the ELR and is now resplendent in LMS crimson lake livery bearing the number 13065.
Tender number 3918 was originally built for LMS Royal Scot number 6131 'Planet' (the name was subsequently transferred to a 'Patriot' when 6131 was named 'The Royal Warwickshire Regiment' in 1936 and the name 'Planet' was subsequently applied to rebuilt 'Patriot' number 45545 in 1948).
Tender number 3918 was then transferred to LMS 'Jubilee' number 5557 'New Brunswick' in October 1936, and later was paired with Fowler 4F 0-6-0 s. The tender entered Barry scrapyard paired with 4F 0-6-0 number 44422 in August 1965, whose final allocation was Bristol Barrow Road (82E). 44422 was subsequently bought and restored to working condition with another Fowler tender. 8F 48173 and tender number 3918 were later bought by a group at the Avon Valley Railway. The group later sold the tender and loco to Greg Wilson at the Churnet Valley Railway, who subsequently sold the tender to the East Lancs Railway as a source of spares for 42765's tender which required a replacement wheelset.
The frames from tender number 3918 will be stripped at the Llangollen Railway for possible use with 'The Unknown Warrior' using the wheelsets, springs and 2 of the axle boxes from the Fowler tender acquired from Barry scrapyard.
'The Unknown Warrior' is expected to be in steam for 2018 - the 100th Anniversary of the Armistice which brought about the end of the Great War if enough money can be raised.
Photo: Tender number 3918 is seen at Bury, ELR