First £Million Raised for 'The Unknown Warrior'
Submitted by

alaws

on 22 November, 2014 - 18:40
The LMS-Patriot Company, the charitable project which is building a new steam memorial engine 'The Unknown Warrior' is delighted to announce that one million pounds has been raised since the Project was launched in April 2008. The announcement was made at the Project's AGM on 15th November at Crewe Heritage Centre.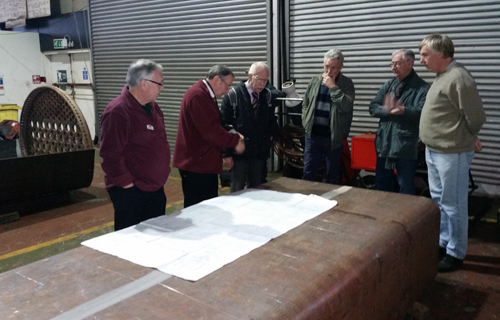 Members of the LMS-Patriot Project discuss progress of 'The Unknown Warrior's' Firebox with Directors of The LMS-Patriot Company at the recent AGM at Crewe Heritage Centre. Photo by Andrew Laws
The £1million mark was rapidly approaching at the beginning of November and was actually reached on 11th November - Armistice Day - a highly significant day for the Project which is building the new Royal British Legion Endorsed National Memorial Engine. This year also marks the 100th Anniversary of the start of the Great War.
The milestone was reached through actual donations and income and not from pledges or loans. It is believed to be one of the fastest fundraising efforts for a standard gauge new build locomotive. As Churchill famously said, "This is not the beginning of the end, but the end of the beginning". The LMS-Patriot Company has achieved this tremendous milestone but is still seeking to raise further funds to complete 'The Unknown Warrior' for 2017.
David Bradshaw, Chairman said, "The first million raised is a fantastic achievement, but we still have a long way to go to build 'The Unknown Warrior'. Over half a million Pounds still needs to be raised to complete the new 'Patriot' class locomotive. At the current rate of fundraising, I am confident we can achieve this but I urge anybody who has not yet donated, to come and support this fantastic Project".
If the current rate of progress continues, 'The Unknown Warrior' will be in steam for 2017, ready to commemorate the centenary of the end of The Great War in 2018. The LMS-Patriot Company is appealing for one-off donations, regular monthly donations or loans for the Boiler Appeal which will be repaid with interest. Click here to make a Donation. Or for more information about Boiler Loans click here.