LMS Crimson Lake Livery to be Carried First by 'The Unknown Warrior'
Submitted by

alaws

on 13 November, 2016 - 19:08
The first livery to be carried by new build 'Patriot', 'The Unknown Warrior', was announced at the 8th Annual General Meeting of the LMS-Patriot Company on 12th November. We are delighted to announce that this will be LMS Crimson Lake.
The livery was chosen by Members of the Project who were each entitled to one vote. The total number of votes for Crimson Lake was 378 - a clear and decisive margin of 248 votes to second place BR express passenger Green which received 130 votes. LMS lined black received 99 votes and BR lined black received 67 votes.
Heritage Painting, the company responsible for spectacular painting and finishing work on steam locomotives including the world famous 'Flying Scotsman', record breaking speed legend 'Mallard' and museum piece marvel 'Dwight D. Eisenhower', have been contracted to undertake the final painting and finishing work on 5551 'The Unknown Warrior'.
The paint that will be used for 'The Unknown Warrior' has been kindly sponsored by Bromborough Paints, a leading supplier and wholesaler of paint and decorating products in the North West of England.
Heritage Painting's first association with The LMS-Patriot Project dates back to 2013, when the company painted, lined out and hand painted the LMS 5551 and BR 45551 numerals on the cab sides during a demonstration at the Warley National Model Railway exhibition at the NEC.
Ian Hewitt, founder of Heritage Painting said, "The team and I at Heritage Painting are truly honoured to be part of the Patriot Project. To be able to apply our painting skills to 'The Unknown Warrior' allows us to add the finishing touches to a locomotive that truly shows the 'Best of British'.
I think that on completion in LMS crimson lake livery, 'The Unknown Warrior' will be a truly stunning locomotive which will be a very fitting tribute to those servicemen and women who sacrificed their lives for our country. As an ex-serviceman myself who was injured in service, I couldn't be more pleased to pay my respects through our work."
Andrew Laws Marketing and Publicity Director of the LMS-Patriot Project said, "Locomotive liveries are always a hugely debated and sometimes contentious topic of conversation amongst railway enthusiasts, so it is fantastic that our Members have decided the first livery of 'The Unknown Warrior'. I am sure the finished locomotive will be admired by all and will be a fitting memorial to all the service men and women who fought and died in the Great War and all subsequent wars."
5551 will be painted in its LMS livery for 2018 to commemorate the 100th Anniversary of the Armistice which brought about the end of the Great War. The new 'Patriot' 4-6-0 has been endorsed by The Royal British Legion as the new National Memorial engine, as the original stream memorial engines, 'Patriot', 'Valour' and 'Remembrance' were all unfortunately scrapped.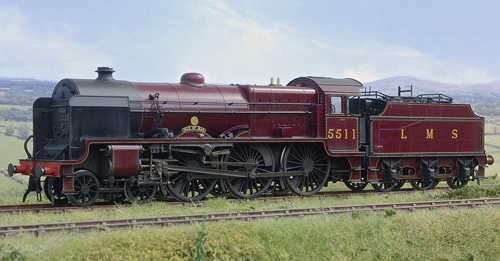 Photo of 5511 'Isle of Man' courtesy of Lee Marsh Models.