Patriot boiler moves to West Shed as contract is signed
Submitted by

alaws

on 29 November, 2017 - 17:30
The LMS-Patriot Project is pleased to announce that Heritage Boiler Steam Services Ltd.  (HBSS) has been selected as the new boiler contractor to complete the boiler for 'The Unknown Warrior'.

The company was founded by Andy Wilcock and Rob Adamson, who both left the employment of L&NWR Heritage, our previous boiler contractor, on 24th November and will start work on our boiler in the first week of December. Both partners, who are apprentice served, have between them over 30 years' experience in boiler repair and construction. Both have worked on the new 'Patriot' boiler during its construction at L&NWR Heritage, and Andy also previously worked for Ian Riley Engineering.

The process to appoint a new contractor has taken several months after L&NWR Heritage announced that they would be ending all contract work in May this year. Around 13 different companies were contacted with a view to complete 'The Unknown Warrior's' boiler and HBSS were selected from a shortlist of around half a dozen companies who had expressed an interest in completing the boiler.
David Bradshaw, LMS-Patriot Project Chairman, said, "I am delighted that Heritage Boiler Steam Services will be able to complete the assembly of the boiler - the first all new large standard gauge boiler to be built in the UK since 1962. This will enable 'The Unknown Warrior' to steam for the first time before testing begins at the Llangollen Railway."
HBSS are operating from West Shed, utilising workshop space rented from the Princess Royal Class Locomotive Trust, at Swanwick Junction near Ripley in Derbyshire. Work to complete the G9½S boiler includes fitting the outer firebox to the inner firebox, drilling and fitting firebox stays, fitting the barrel to the smoke box and firebox, fitting all the small and large tubes and superheater header.
The boiler barrel, inner firebox and outer firebox wrapper were moved to West Shed on 30th November.

This work is expected to be completed at the start of 2019 which means unfortunately that 'The Unknown Warrior' will not be in steam for the 2018 100th Anniversary Armistice commemorations.
The LMS-Patriot Project has launched its 'Raising the Pressure!' Appeal that is raising £250,000 that is needed to complete the boiler.
Click here
to make a donation.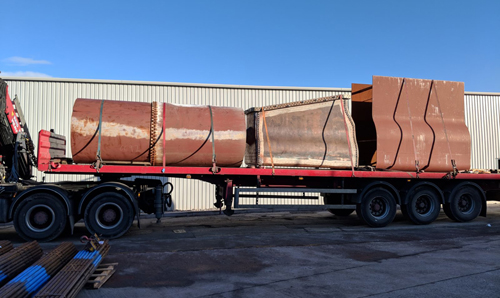 Boiler barrel, inner firebox and outer firebox wrapper are seen after being loaded at Crewe for the journey to West Shed on 30th November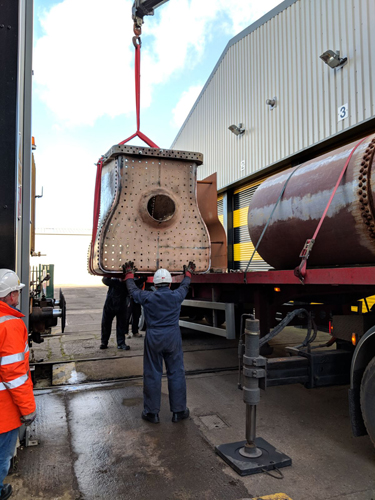 The inner firebox is loaded for the journey to West Shed on 30th November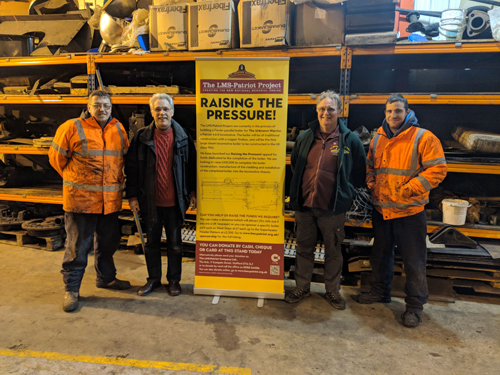 LMS-Patriot Project Chairman, David Bradshaw and CME, Kevin West are seen with Rob Adamson and Andy Wilcock from Heritage Boiler Steam Services on 30th November
All photos by Gavin Shell/LMS-Patriot Project