Simon Weston CBE unveils crest on 'The Unknown Warrior'
Submitted by

alaws

on 12 November, 2018 - 08:54
The first patron of our Project, Simon Weston CBE, unveiled a crest on the new National Memorial engine at an event at Crewe Heritage Centre on 10th November to commemorate the centenary of the Armistice. 

The new build steam locomotive 'The Unknown Warrior' has been built to commemorate all those who fought and died in conflicts since the Great War. 


Simon Weston CBE said, "I am truly humbled to be asked to be invited to unveil the crest on 'The Unknown Warrior'. It is a magnificent achievement by all those involved in creating this 'beast' of a locomotive that will be a lasting memorial". 

David Bradshaw, Chairman of the LMS-Patriot Project said, "We are honoured that Simon Weston CBE has unveiled a crest on the new national memorial engine 'The Unknown Warrior'. As a serving soldier himself, his bravery and courageousness in the line of duty is exemplified by all those who fought for their country".
Simon Weston CBE was welcomed
 to Crewe Heritage Centre by Her Majesty's Lord-Lieutenant of Staffordshire Mr Ian Dudson, CBE KStJ
 and David Bradshaw, Chairman of the LMS-Patriot Project.
A service of dedication and remembrance was then conducted by the Reverend Mike Roberts, Chaplain for the Manchester Area Railway Mission, before Simon unveiled the magnificent crest and name plate.  
The new memorial engine was decorated with poppies and wreaths for the 100th anniversary of the Armistice commemorations on 11th November, recreating a tradition that was seen on Armistice Day in steam days with the original memorial engine named PATRIOT - In Memory of the Fallen.
5551 'The Unknown Warrior' was moved to Crewe Heritage Centre for its boiler to be trial fitted by Huyton based boiler makers Heritage Boiler Steam Services. Crewe Heritage Centre was open to the public for a weekend of special events to commemorate the 100th anniversary of the Armistice. 
Freightliner class 66 'PATRIOT' was 
specially
 brought to Crewe  for display at the event courtesy of Freightliner UK/Genesee & Wyoming. A large number of LMS-Patriot Project Members who had attended the AGM earlier the Saturday and vistors to Crewe Heritage Centre were present to see the unveiling on this historic weekend. 
The project to build the new memorial engine started in 2007 after the original LMS memorial engine and 3 other memorial engines were all scrapped. 
The LMS-Patriot Company, the charitable project that is fundraising to build the new locomotive, has raised over £2 million pounds to date.
Welsh Guardsman Simon Weston suffered horrific injuries in the 1982 Falklands Conflict when the ship he was on board, the 'Sir Galahad', was attacked. Simon set up the charitable organisation Weston Spirit, is a motivational speaker and runs a security business. In 2016 Simon Weston became a patron of the LMS-Patriot Project.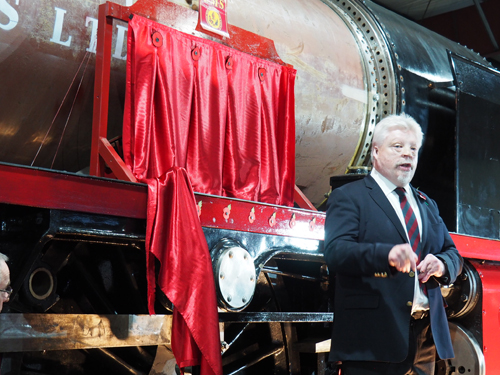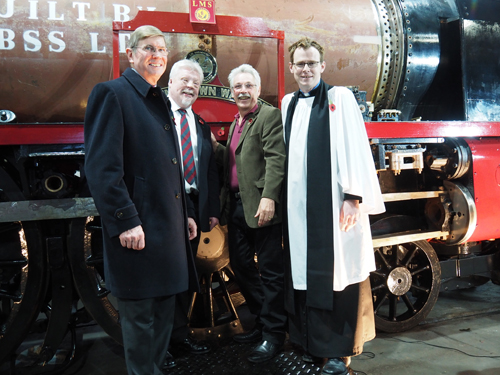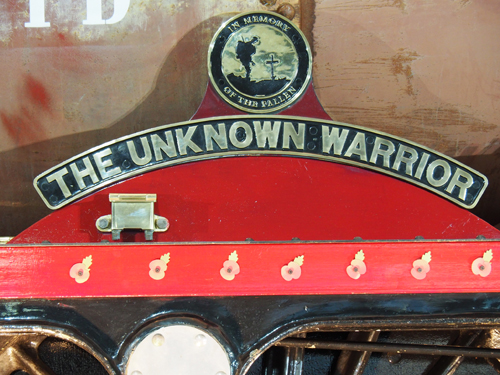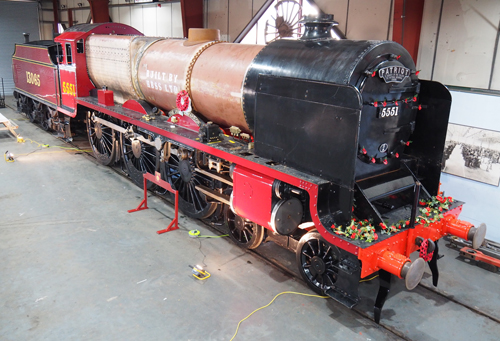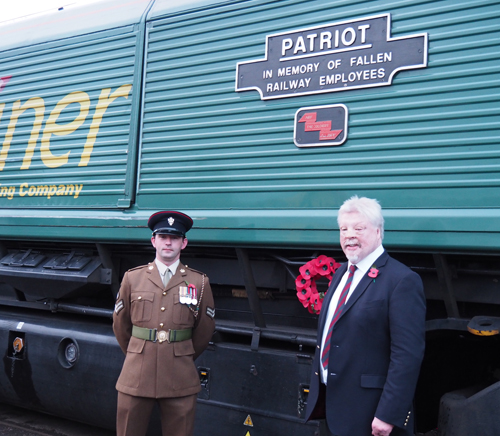 All photos by John Hastings-Thomson/LMS-Patriot Project.